I sat down to gather my thoughts today and realized that there really has been nothing awkward going on in my life this past week...very weird...I bet next week will be real interesting! Still, I figured there is nothing wrong with just acknowledging the "awesome's" so far this week!
Awesome
-the feeling that spring really is just around the corner...breathe in that fresh air!
-hikes in Chester Creek, a hiking spot right in the middle of town (going to make this a regular thing on my agenda)
-my shellac manicure staying strong, no chips at all! I'm impressed.
-new puppies at work (new foundland, golden retriever, black lab mix-I die.)
-sippin' on tasty Pagan brews outside, soaking up the sun
-late night chats with the roomies (and by late night I mean 9:30...we're old!)
-Anytime Fitness's new & improved facilities...hallelujah!
-countdowns in my planner til seeing friends in Chicago
-this lil' number that I decided to cook up tonight:
Spinach and Chicken Tortilla Bake
!
Here's the recipe if you are looking for something easy for your dinner tonight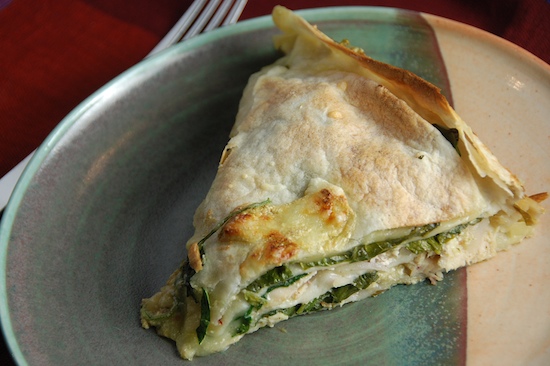 Spinach and Chicken Tortilla Bake
(adapted from Rachel Ray)
1 tablespoon extra-virgin olive oil
4 chicken cutlets (about 1 pound)
1 1/2 cups store-bought salsa verde *I plan on substituting this for a slightly less spicy salsa
4 large (8″) flour tortillas
1/2 red onion, thinly sliced
3 cups baby spinach (about 1/4 pound)
2 cups shredded pepper jack cheese *Going to use a combo of cheddar and pepper jack
Preheat the oven to 450°. In a large skillet, heat the olive oil over medium-high heat. Season the chicken with salt and pepper, add to the pan and cook, turning once, until cooked through, about 5 minutes. Let cool, then shred the meat.
Whisk together the salsa verde and ricotta; season with salt and pepper. In a greased 9-inch square baking dish, layer one-third of the salsa mixture, tortillas, chicken, onion, spinach and pepper jack; repeat twice. Bake until golden-brown, 15 to 20 minutes. Let stand for 10 minutes before serving.
Serve with side of salsa and sour cream!